This page contains affiliate links. Learn more.
I had planned two days of spare time in Chennai before taking a flight to Mumbai and all the way back home. I spent them to visit two more clinics after coming from Puducherry where I had amazing DIV's done at SAS Healing Centre. Chennai is one of the medical tourism hubs in India, especially in allopathic field, but I found there being several integrative clinics as well. So if you need ozone therapy in Chennai it's easy to arrange on stop over for every traveller. Alternative therapies such as natural cancer treatments are greatly needed in a polluted metropolis like Chennai. Chennai has good connections to SA-Asia like Kuala Lumpur and Singapore. Those coming from Europe may find more convenient connections to Mumbai and Delhi.
The first one, Nulife Wellness Centre was at convenient distance from T Nagar Business District and the Kavithaanjali Guest House that I found to be good match location wise even if it's rated as average by many.
Dr.Arul who is the founder of the clinic claims to be the first one who brought EBOO therapy to India. As a reminder, EBOO stands for Extracorporeal Blood Oxygenation and Ozonation therapy which I tried out in Bali myself on my earlier trips. His story behind turning to integrative medicine involves the so typical personal trauma resulting from disappointment of allopathic medicine in curing chronic conditions that led him lose his parents prematurely. After studying with many experts on the field he decided to open his own integrative health center and has never looked back.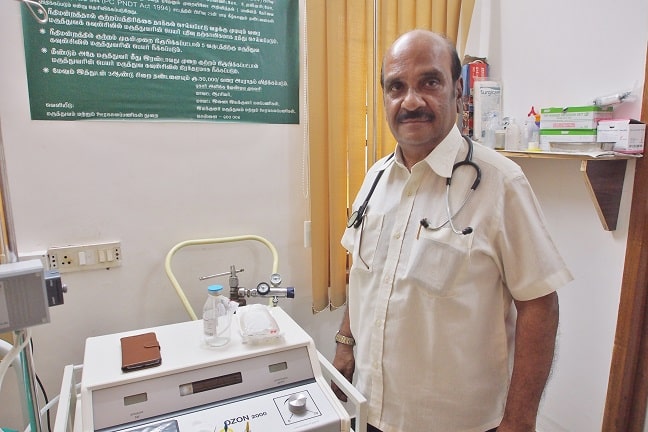 He holds a degree of an allopathic doctor from Chennai medical school so he has all the tools necessary to take care of patients in an integrative manner and consult other specialists for example in the case of cancer. The Nulife Wellness Centre has wide array of integrative treatments available besides EBOO and the so called 10-pass hyperbaric ozone therapy such as EDTA chelation, Insulin Potentiation Therapy, IV Nutraceutical drips(such as high dose Vitamin C and Alpha Lipoic Acid), Metabolic Medicine, Mistletoe, Platelet Rich Plasma, EECP, Prolozone etc.
The latest add on is Sono-Photo Dynamic Therapy(SPDT). That is a new method deviated from the former Photo Dynamic Therapy that was approved even by FDA for treatment of certain cancer types back in the in 1998. And this new therapy combined with the PDT and conventional methods has been proven effective as part of more natural cancer treatments. Here is a good video made about it's inventor in China.
However, what was most intriguing to me, was that he had now started offering the 10-pass hyperbaric ozone therapy in Chennai that he learned in Austria under the supervision of it's developer Johann Lahodny. Here you'll find more information about it. Also Paola whom I have referred earlier in my Bali article has been investigating it's use here. Quote from The Power of Ozone:
The 10 Pass method describes an ozone therapy treatment during which 200 ml to 220 ml of a patient's blood are drawn under negative pressure (vacuum), the blood is then mixed under positive pressure with 200 ml of ozone at a concentration of 70 ug/ml, and then re-infused into the patient's vein, also under positive pressure. This is repeated 10 times, hence the name "10 Pass". One 10 pass procedure can last between 1 to 2 hours. The total ozone dosage supplied is an astounding 10 x 70 ug/ml x 200 ml = 140,000 ug (= mcg = micrograms) or 140 mg, hence the name Ozone High Dose.
I was given a sample treatment of 9-pass, so it was not the full one, but sufficient enough to see the effect. So yes, it's possible to decide how many times the ozonation procedure is being repeated within each session. Sometimes the repetitions can be limited also due to complication in patients vein that is under exceptional stress when the blood is being withdrawn and then re-infused back again through the same cannullas multiple times during the session that can last more than an hour, even two. It does not feel very pleasant, but it is bearable once you know it will eventually help.
But it makes me wonder how one can last many weeks of daily treatments if your veins get bombarded everyday like that. I remember how it was for me during my first two months in Goa and then we used the small butterfly cannullas.
Here I found another health blogger Shantel Logeot from Wholesome Inspiration sharing her experience of taking 10-pass hyperbaric ozone treatment to cure Lyme disease. She seemed to have no issues in that regard.
For me the effect was very subtle and I felt mild tightness in my throat when approaching the end of the treatment, but I must say the DIV I experienced at SAS Healing Centre gave me stronger "feel" effect. Maybe it's due to the short gap between these treatments so the sensation was not that strong anymore.
When thinking of natural cancer treatments and ozone therapy in Chennai there are many options. The other place that offers 10-pass hyperbaric ozone therapy in Chennai is The Koncept Hospitals. You should check the current pricing, but considering there is a place even in Spain that offers it for ca. 80 EUR per session, I would bargain that in mind, although in some places in US and Canada clinics may charge up to 300-400 USD per session.
---
Nulife Wellness Centre
Flat 1B, Jayamkondar building,
12/40, Murrays gate road,
Alwarpet,
Chennai 600018.
Phone: +91(0)44-2499 1466, +91 98414 47100
Website: http://www.nulifewellnesscentre.com/
Email: drarull(at)gmail.com
Opening hours: 9 am to 5.30 pm