This page contains affiliate links. Learn more.
From bustling Kolkata through Bodhgaya and Puri to laid back Puducherry
On my last trip in India (2017) I was lucky being able to combine some sightseeing and cultural and historical remnants to my schedule and also had a chance to go and listen Dalai Lama in Bodhgaya during the Kala Chakra before heading to Puducherry to see the most peaceful place for getting EBOO therapy in India. I coincidentally found out it was held around the same time when I was in Kolkata to visit Dr.Prasanta Banerji Homoeopathic Research Foundation, the home of The Banerji Protocols. I was coming from Thailand and heading to several places in western part of India, especially Puducherry.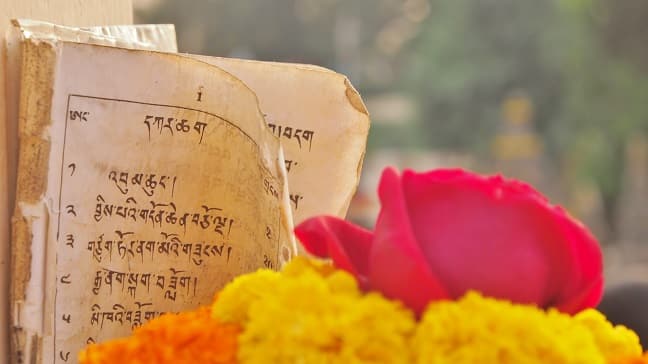 Soon after I was done visiting Dr.Prasanta and the Indian Board of Alternative Medicine and seeing some sights in Kolkata, I took a night train to Bodhgaya to witness the glory of a place where Buddha was claimed to attain enlightenment. Although I'm personally leaning towards Christianity I have a soft spot for some Buddhist metaphysics and to see the pilgrimage site and Mahabodhi temple and it's surroundings was worth the uncomfortable offshoot from my medical travels. Non-AC sleeper class made sure I could not sleep at all on the way there. The open window and cold wind and noise made sure of that. Yes, it was cold or at least chilly as Bodhgaya is on a higher altitude than Kolkata and it was January.
To my disappointment I found out the current 14th Dalai Lama Tenzin Gyatso is, or has been, apparently in CIA payroll (same forces that are behind the communism that was destroying Tibet), but at least, as they say, don't judge before seeing for yourself. The former 13th Dalai Lama had some good points against communism and he predicted the Tibetan occupation. But in spite of some good statements here and there like his views on the European refugee crisis, which I appreciate, I consider the current 14th Dalai Lama too much of a rock star figure, still flirting with the globalist forces which is not doing a favor on his credentials as a spiritual leader.
From Bodhgaya the next logical destination was Puri, back at the north-eastern coastline, where I got sick for five days of dengue fever (according to the test I made) and I ended up delaying my flights from Bubaneshwar to Chennai. But at least I got AC sleeper class on the way there.
However, that incident gave me again a moment to test different modalities on the way in real life situation. I did daily H2O2 enemas and was running immune system stimulation sets from Spooky2 and experimented with the homeopathic remedies I had bought from Kolkata. All that combined made sure I was recovering without any need of hospitalization that is many times the case with dengue.
Meeting Dr. Gopal Rabindranath in Puducherry
After a week of persuasive e-mails and phone calls which I made from Mahabalipuram where I headed to from Chennai airport, I managed to arrange a meeting with Dr.Gopal Rabindranath in Puducherry. Mahabalipuram (or Mamallapuram) being closer to Chennai, was a good stop-over for sight seeing and "office work".
For those who still don't know, Puducherry(formerly called as Pondicherry) was the biggest French colony in India that has still maintained it's dual personality in it's character. The city is literally divided by a small canal to the old French style part and the Indian one. The most affordable guest houses are on the Indian side, but it's not long way to the old part where many of the attractions lie.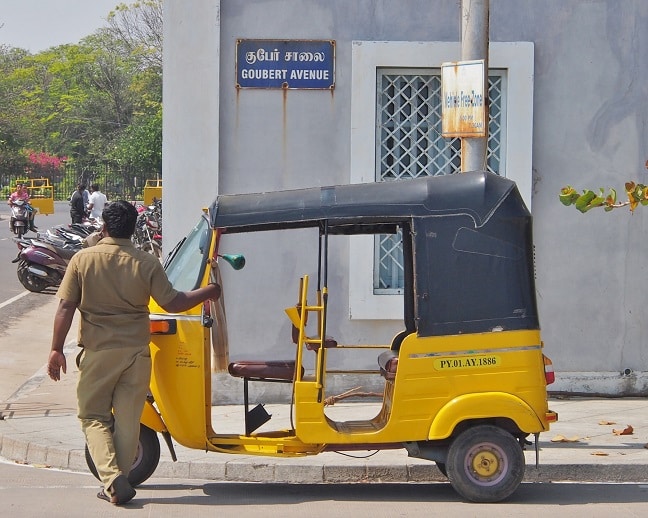 Dr. Rabindranath receives patients at the East Coast Hospitals where he offers EBOO ozone therapy besides working as a Senior Nephrologist in the same hospital. EBOO stands for Extra-corporal body oxygenation and ozonation that I experienced in Bali. Pondicherry is the most convenient location for foreigners to go through longer term EBOO protocols in India. All the other anti-aging and integrative treatment centers that offer EBOO therapy in India are in big polluted cities without tourist amenities and conveniences and expat circles. That made me so eager to see the place although I did not take the treatment myself this time.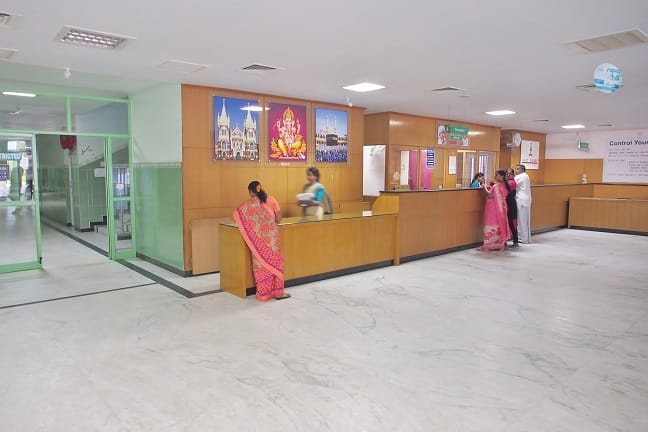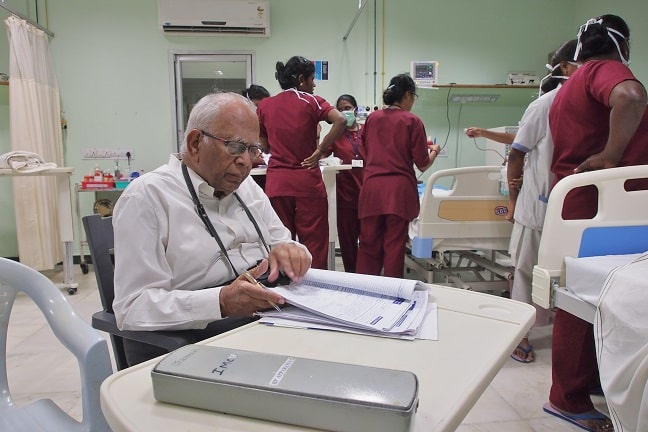 I find it somewhat peculiar observation that many doctors of Indian origin who have turned to integrative medicine are far beyond ordinary retirement age. Dr.Rabindranath was 80 something when we met like Dr.Mahendran in Malaysia as well. He graduated from Chennai Medical College(with some additional courses in UK) and spend most of his professional life in Australia since 1972 where part of his family still lives. He decided to return to Puducherry in 2004 where he continued to work part time and got involved with Sri Aurobindo Society Health facility voluntarily taking up DIV ozone therapy and later EBOO ozone therapy.
When I went to meet him and see his practice he was supervising EBOO session for a patient with serious condition consisting of Altered sensorium, Bilateral periventricular white matter lesions in brain and some sort of occlusive disease in small vessels that were caused by traffic accident. Prospects of his recovery looked hopeless, but according to doctors he had made some progress with EBOO. But I doubt he ever could talk or walk again.
Dr.Rabindranath had educated a colleague, Mr.Navaneetha Krishnan who normally works as dialysis specialist to handle the actual procedure with EBOO, wiring up the patient with cannulas and tubes and adjust the blood flow through the machine with the help of a assisting nurse. Normally EBOO is done through the median cubital vein which are used to take blood samples, but this time the cannulas were inserted somewhere around his neck, I assume using some of the jugular veins because his veins were too difficult to access on his arms and he had some dyskinesia as well due to his brain damage.
Dr. Rabindranath said he is focusing mainly on local patients who suffer from such serious injuries and complications instead of trying to bait much foreign wellness tourists. Therefore he was hesitant to be involved on my website at first, but I was happy that he finally changed his mind and allowed me to see the procedure and interview him.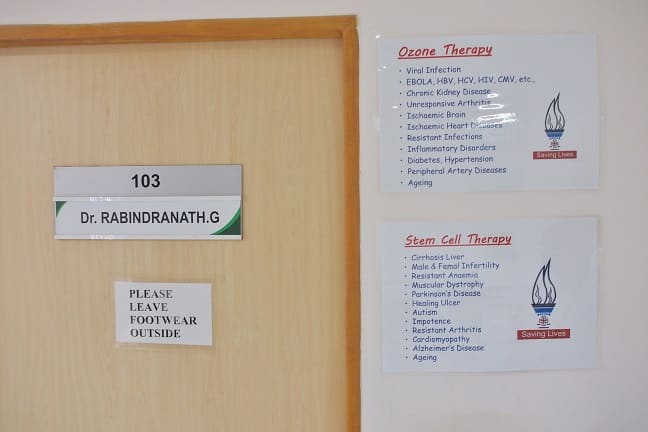 He has been consulted by some of the most well known EBOO and DIV specialists in the world such as Dr Howard Robins, Dr Steve Hanson and Prof.Velio Bocci. Additionally he has visited at Bali Ozone Therapy run by Dr.Chandra Irawan in Bali and Dr. Silvia Menendez at Ozone Research Center, Havana, Cuba.
He charges amount equivalent of 150 USD for each sessions which is not the cheapest, but reasonable considering EBOO therapy in India is not so widely spread and available like in Malaysia. In addition to EBOO another integrative modality they offer is Stem-cell therapy.
East Coast Hospitals is located in Moolakulam area which is about 6,5 Km away from the touristy French part of the city called White Town. I stayed at Surya Swastika guest house and from there it took about 20 minutes to go to the hospital by taxi. Surya Swastika is the most affordable guest house around the area and I paid 350 INR per night. There are several eateries near by as well like Punjabi Dhaba and Energy Home. The latter sells many herbal products as well, but they are not organic.
In the next article I will take a look what the Sri Aurobindo Society Health facility has to offer in terms of ozone therapy.
---
Dr. G. Rabindranath, MBBS, FRCP (GLASGOW),
Senior Consultant Nephrologist for Second Opinion
E-mail: rabindrg@hotmail.com / rabindrg@gmail.com
Mobile: 09345454386, 09944407377
For Consultation and Appointment:
Address:
East Coast Hospitals Ltd,
No1, Paris Nagar,
Moolakulam
Pondicherry – 605010
Contact No: 0413-229 7800