This page contains affiliate links. Learn more.
When looking at the longest standing places for holistic healing in Chiang Mai besides Balavi Natural Health Center and one that is inside the moat you can't miss Chiang Mai Ayurvedic Center that opened in 1999. It's also called the Pongphat Clinic. They have more ayurvedic twist and modalities are mostly based on that approach, but in the other hand they offer other unique alternative therapies like pyro-energen and electro-dermal screening therapies. And of course ozone steam sauna therapy and colon irrigation and coffee enemas are available, but they do not practice any invasive intravenous treatments. Although I had dug into bioresonance and electronic therapies before, the pyro-energen was something that intrigued me to try it as I got a little discount for giving it a go in exchange for this article. They also have small selection of some herbal products and Hulda Clark's liver flush package for sale. And if you are tired of Thai massage, that is offered everywhere, this is the place to go if you want to try ayurvedic massage in Thailand instead.
The premises are not that fancy or luxurious and already a bit worn out, but prices are affordable and their staff is very friendly. One of the ladies in reception had spent long time in the USA many decades ago so communication was very easy. Unfortunately the head doctor and owner was away for many weeks so I could not arrange interview with her. So I went for the pyro-energen although it's not really an Ayurvedic therapy or a massage as the title suggests. But because it was something even more unique I picked it instead of massage.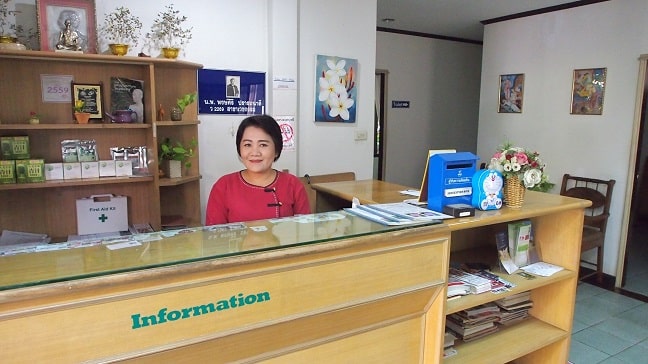 I had to do little research on the pyro-energen machine and I must say I was and still am a bit skeptical about it, but as it has been produced and sold since 1968 and is still in the markets I think there must be something to it and most of the few testimonials I found are positive. And it can be used as supportive therapy besides ayurvedic and ozone treatments 1-2 time a day so it's affordable. But if relying on that modality alone it might be better to buy the machine to your home or negotiate package deal that includes three sessions per day. There is also place in Chiang Mai such as Aden health shop to buy your own ozone generator for ozonating your drinking water for supporting the healing process, but if you want to get one before travels, this is one to check out.
In order to find the right track and to choose successful treatment protocol it's important to know your constitutional type according to ayurvedic principles. For that purpose their website has a questionnaire to determine your Dosha, the Ayurvedic constitutional type, quote;
"Although there are only three doshas, they can combine in ten possible ways to give ten possible Constitutional Types"
For the pyro-energen treatment that is not needed though. So I went straight out there to be guinea pig again, although I had a feeling it was impossible to say whether it works on healing any serious ailment like viral infection based on only one 30 minutes session. For such cases it is recommended to use the machine 3-5 times per day. But at least I experienced what was told to be a small electric shock when touching quickly the flower next to me. I was also given pillows to protect myself from coincidentally touching some metal grid on the window behind me.
Over the course of treatment I was reading the old printed version of the manual, and to my delight, found some hilarious passages. It seems like they have found "cure" for homosexuality as well, as they claim that it is a result of "incurable disease" noticeable in uneven length of your fingers. And by using pyro-energen, as they claim, you might be able to cure that incurable disease and consequently biased sexuality and balance the length of your fingers. I know this sounds like quackery and crossing the line of non-scientific theory that I usually try to avoid not to degrade the credibility of my site, but it is so funny idea that I had to take image of it. They have since reformulated the passage on their website. However, I am interested to know if anyone has "cured" that condition with pyro-energen as I can not debunk the idea without further evidence from either side. World is full of miracles.
After the session when I took a picture sitting there at the treatment chair, I noticed the image had kind of slightly blurred corners, kind of swirly bokeh effect, but without front object, something different what normally happens when the camera has moved or shaken at the moment of snapping the picture. The Olympus camera I used has never before produced such effect. Same effect, but much stronger one, was found in one of my friends picture he took at one place in the forest here in Finland locally knows as some kind of ancient ritual site that has some weird magnetic fields around it. So maybe there was stronger electronic field around me as result of being attached to the pyro-energen machine that made the image as it was. Other images I took before the therapy with same aperture or shutter speed did not come out the same way. I don't know for sure, but it is one possibility to prove that something happened.
Given that the machine has been around for so long it was strange to find only few testimonials and references outside their own website, but I found some on Youtube that sounds reliable. Also in Spooky2 forum someone has mentioned the machine in positive light. I should investigate it's potential sometimes more diligently, buying it myself and experimenting.
Here is a demonstration video to see how it creates negative electronic charge on patient. I did not produce it, but only embedded here…
Next time, if I go to Chiang Mai again, I want to try more comprehensive package with some massage and Shirodhara. Then I can say how the ayurvedic massage in Thailand is done in comparison to those offered in India, the place of it's origins.
If you are ready to go, book you flight here.
---
Chiang Mai Ayurvedic Center / Pongphat Clinic

Address: 54/9 Singharat Road, Sriphum, Chiang Mai, 50200 Thailand
Phone: +66 (0) 53 416455
E-mail: contact@detox-chiangmai.com