This page contains affiliate links. Learn more.
Besides Mungkala and Dr.Wang the most prominent establishment practicing Traditional Chinese Medicine and acupuncture in Chiang Mai is Center of Thai Traditional and Complementary Medicine, TTCM, that functions under Faculty of Medicine, Chiang Mai University.
TTCM has two or actually three wings under one roof. Allopathic medicine, Thai traditional medicine and Traditional Chinese Medicine departments. Allopathic side provides medical consultation, general health checks and analysis(lab tests) and diagnosis of conditions by medical doctor, before further treatment in either Thai medicine clinic or the Chinese medicine clinic.
Thai traditional medicine mostly includes Thai massage with herbal compress, tailored and specific to each patients diagnosed condition. Postpartum care is also available according to Thai traditional medicine practices. Thai herbal steam bath can be taken even without doctors consultation.
Their main specialty or kind of signature treatment is SuanDok Massage that is developed in-house fusing Thai traditional massage, Lanna massage and Chinese acupressure point massage leaving out the elements that bears any potential risks. It is therefore more sophisticated version of what you can find in all the massage parlors at almost every corner in the city. For instance temporary blocking arteries and then releasing the blood flow in your legs may not be the best idea in some conditions.
Traditional Chinese medicine obviously includes the basics of TCM; pulse diagnosis, acupuncture, cupping and Chinese herbal medicine. My first experience there few years ago was limited to one visit at the acupuncturist, but I ended up not taking the treatment. However, as an update now in 2017 on my latest travels I went to see the place again to find out if there has been any changes. Everything was running as usual, but now there was a new shop, Anurat – Herbs and More, that sells… well, the name says it all. And some other doctors had joined in.
I wanted to try out their new doctor, Dr.Atirat Puntanum(JOM) and took one session of acupuncture for my sleep issues with him. There was not much queue and I was let in almost straight away.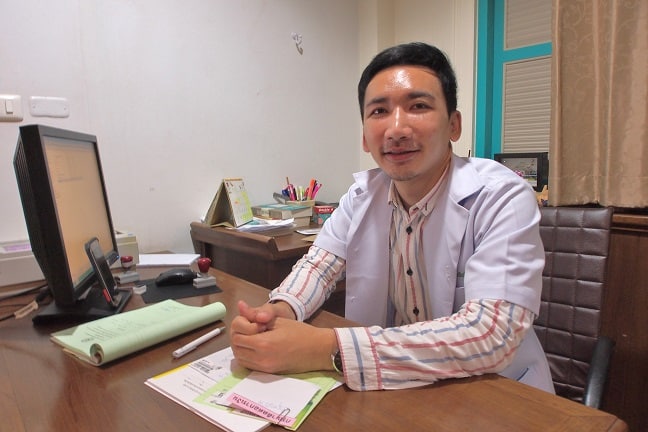 The room was a bit weirdly dim, almost dark lighted with few spot lights and as usual walls were decorated with acupoint charts. One of the acupuncture points on my wrist was very sensitive, I guess it was the Nei Guan point and it hurt a lot. Otherwise things went normally and smoothly and I was lying down there about half an hour. Unfortunately I was not able to tell whether it made any difference as it would require more sessions to draw conclusion. But the overall impression was still professional and I was able to communicate with the doctor in English relatively well. They also have electronic stimulator available in case some protocols requires it. They use middle size needles. Not the shortest ones as Mungkala, but not the longest ones either as Dr.Khamkong in Laos.
Thai Traditional Medicine is an offshoot of Traditional Chinese Medicine and Ayurveda
In addition to my limited trial at the acupuncture department I went to see if I could find someone to talk with at Thai traditional medicine department and found Dr.Kiadtisak. He turned out to be the most open and talkative person to have chat with in the whole place at the time. He is from Chiang Mai, but had studied in Bangkok before returning to Chiang Mai for his current position. He explained me about the basics of Thai medicine that is actually an off-shoot of wider Chinese medicine tradition.
Like I said earlier I found out they also offer the so called Tok Sen massage which I experienced in Fah Lanna Spa. Their settings are very modest and plain in comparison though. He told me about the history of wooden mallet and wedge that are used on the treatment and are made usually of either Tamarind, Teak or Hopea Odorata tree. The most original ones are made of Tamarind tree that was struck by lightning and blessed by Buddhist monks in order to pass the nature's energy to the patient. "Sen" is Thai word meaning Thai meridians and tapping them with the wooden tools is going to release Qi or "life force" in the body through the vibrational effect it creates.
They frequently receive visiting doctor from China who is said to be more experienced than their in house doctors, but I did not meet him. The center works on non-profit principles. Therefore any revenue from services will provide treatments for ailing Buddhist monks and will be donated to the monks inpatient department at Maharaj Nakorn Chiang Mai Hospital.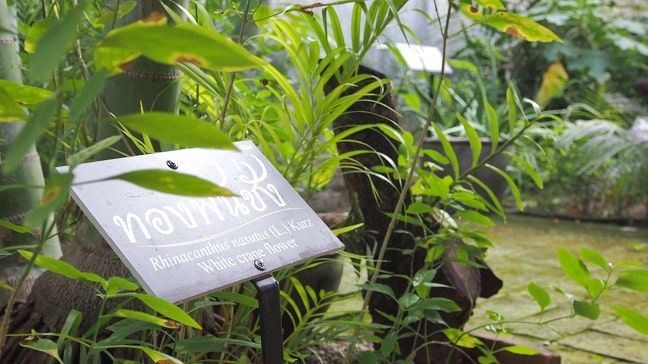 Overall the clinic left professional and good impression and unfortunately I had no time to take any substantial therapy there to say how their treatments works on longer term basis. They will become most affordable in multiple sessions.
They offer packages of six treatments for the price of 1800BHT plus consultation fee of 250BHT(conventional) or 150BHT(Thai/Chinese). Individual sessions, if less than six, costs only 350BHT, in comparison to 500BHT at some other clinics. Maybe I will go back one day and go through proper treatments in order to give better judgment of their quality.
There are packages of other treatments too.
For reading more about Traditional Chinese Medicine I would recommend this book.
I found there is video made about the center. I did not produce it, I'm only embedding it here for anyone interested.
---
Center of Thai Traditional and Complementary Medicine
55 Samlarn Road, Tambon Prasing, Amphoe Muang, Chiang Mai.
Phone: +66(0)5394 9899
E-mail: ttcmmedcmu@gmail.com
http://www.med.cmu.ac.th/2013/academic-departments-2/center-for-medical-excellence/ttcm.html
Open daily (including public holidays) 8.00 am-8.00pm
---
Disclosure: There are affiliate links in this article. Please note that when you click links and purchase items, in most (not all) cases I will receive a referral commission for maintaining this website.