This page contains affiliate links. Learn more.
On my visit to the Nulife Wellness Center I got to know about another integrative clinic around the same district, run by a friend of Dr.Arul, Dr. Sankar TSR Mohanaselvan who is the only doctor specialised in Sujok acupuncture in Chennai. They are long term colleagues since the medical school years and due to increasing demand of integrative approach, they both now specialize in such holistic medicine in the overcrowded metropolis.
Dr. Arul asked if I wanted to visit the Koncept Hospitals too, so of course I took the chance to have a look. It's now renamed as Koncept Wellness Integrated Therapy and has relocated, but not far from the previous location where I visited. I was intrigued to find out Dr. Sankar had impressive credentials in the field of integrative medicine covering many decades and especially in Sujok type of acupuncture.
He started off as allopathic physician of internal medicine in 1984 and then went on to obtain formal acupuncture training in China as one of the first doctors, at least in India. In addition he has undergone many courses in electro-medicine like biofeedback therapy and use of Prolozone and Ozone Therapy in Germany, Switzerland and USA.
10 Pass Hyperbaric Ozone Therapy and SCIO EDUCTOR Biofeedback Scanning
His latest add on in the field of ozone therapy is the 10-pass hyperbaric modality which I experienced at the Nulife Wellness Center. Dr.Mohanaselvan and Dr.Arul went together to Austria for a training at the Dr. Johann Lahodny's clinic and came back with Zotzmann 2000 ozone generators that are tailor made for the 10-pass method.
This time I didn't take the treatment myself, but only saw another patient undergoing it. Instead I was given SCIO-EDUCTOR biofeedback scanning. I had done the same with the basic SCIO two times earlier at Dr. Homer Lim's clinic and Absolute Health clinic in Chiang Mai. But this last one was the best and most thorough in terms of analysis. It even made the treatment part once after finding some issues. The system can be programmed to do different things with different parameters. In these quantum based systems one treatment is not enough to heal you, but should be repeated multiple times that I was not able to do.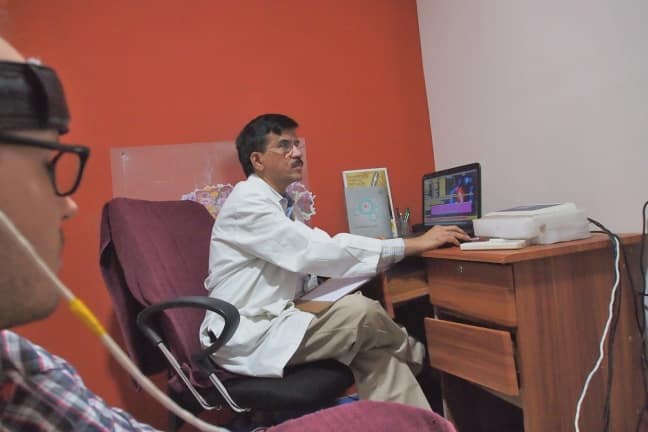 In addition to my adrenal issues that have showed up in all previous test results Dr. Sankar pointed out several interesting indicators of personality traits such as high potential for spiritual abilities(sounds positive):) and pride(usually negative trait). I'm not sure how correct the latter one is, but as a person of RH negative A blood type I have had some psychic abilities and usually strong intuition. So maybe there is some truth to it.
Best Clinic for Sujok Acupuncture in Chennai
Dr. Mohanaselvan is the President of Sujok Academy of India so he is the go to doctor if you are interested in Sujok acupuncture in Chennai. Sujok therapy is a kind of Korean version of acupuncture and acupressure developed by Prof. Park Jae Woo that focuses only on hands and feet. Here's a quote from their site:
"In understanding the anatomy of the human body as a whole, the hands and feet themselves represent a smaller, but nevertheless true, mirror image of the whole body. Within this view, the thumbs and large toes represent the head. Also, in addition to serving their normal functions as appendages to the four limbs (legs and arms), the hands and feet are endowed with an exquisite "remote control" function which can cure diseases throughout the whole body. A knowledge of the principles through hand and foot acupuncture will provide an impressive vehicle for personal and family health care."
I also saw how he did Live Blood Analysis for another patient. Live Blood Analysis is a method where drop of living blood is examined in special microscope to find anomalies like clustered blood cells or signs of parasites before and after treatments. It's nowadays one of the basic tools in most integrative clinics that makes it easy to get a rough image of any underlying medical issue without complex and expensive ordinary lab made blood tests. That costs something like 15 USD.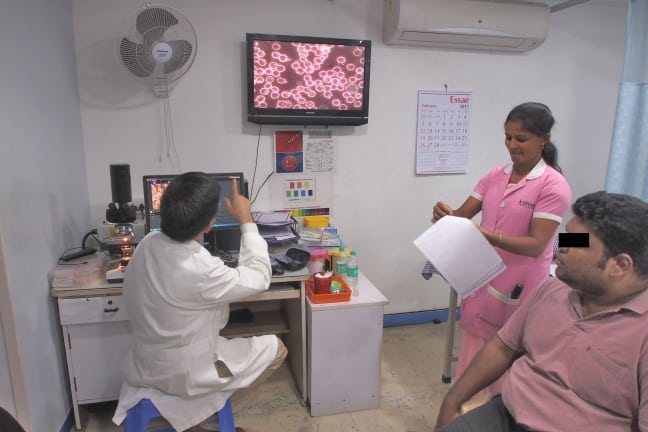 After the treatment I had a chat with him where he told me about his personal history and I got a clear, attentive and bright impression as he appeared to be culturally well adopted with western people having spent in total half a year in western countries. So you can expect straightforward communication.
They also offer EDTA IV Chelation that costs something between 50-60 USD per session and EECP comes at 50 USD. Sujok makes ca. 15 USD. Plathelet Rich Plasma therapy is 300 USD. I find the SCIO Eductor treatment price of 150 USD to be over the top considering I can get similar treatment for the same price in Finland too or even half of it. But you may bargain a good package depending on your needs. Other treatments are reasonably priced and economical. For instance in Finland one EDTA Chelation session can be around 135 Euros. For those who want to try EDTA suppositories, here are some.

I can recommend Koncept Wellness Integrated Therapy as a stop over place for those on the way to Puducherry or anyone who have to stay in Chennai for extended period of time. The main difference between Nulife Wellness Center and Koncept Hospitals is probably in their Ozone Therapy treatments. While Nulife has the EBOO therapy option Koncept Hospitals has acupuncture and Sujok treatment options. Both clinics can offer the 10-pass hyperbaric ozone therapy method for the same price of about 200 USD.
Learn some more about acupuncture here.
---
Koncept Wellness Integrated Therapy Pvt. Ltd
No.3, First Main Road,
Vidyodaya Colony, T. Nagar,
Chennai 600017
Landmark : Near Rajan Eye Care
E-mail: care@konceptwellness.com
Tel: +91 98415 28899, +91 98411 75385
044 – 42128899, 044-28343499, 044-28346799
Hospital Timings:
8.30 am -7.30 pm (Monday to Friday)
8.30 am -5.00 pm (Saturday), Sunday Holiday