This page contains affiliate links. Learn more.
UPDATE: Since May 2017 ozone therapy has been banned in Malaysia and this article may be outdated in that regard. We are waiting better times ahead again, but until then you may want to ask around if anyone is still offering the treatments privately.
During my time in Melaka after visiting at OZ Wellness Centre I tried to contact all the other places that offer integrative therapies and one that I found responsive and worth taking a look was Cancer Care Centre led by Dr. Vijaendreh Subramaniam (Dr. Vijaen).
Heading to Mahkota Medical Centre through the seasonal rain
It was like playing a guessing game with weather forecast; am I able to make it up to his clinic at Mahkota Medical Centre in the new city center without encountering the daily rainfall. It is only about 10 minutes bike ride away from China Town where there are plenty of the budget accommodation options to choose from such as Voyage Home where I stayed.
On my first attempt I barely made it there before the rain hit the ground. Once I entered the building from the smaller doorway behind the two-wing building complex I was looking around the huge lobby area and found many departments offering services ranging from dental care, general examinations and screenings to hair transplantation and PRP therapy.
Dr.Vijaen works as Obstetrician and Gynae-oncologist there at the hospital and has his consultation on 2nd floor, but the place for undergoing integrative treatments, also called as "The Healing Frontier", is located 20-25 minutes drive away from the city center. So you need to take a taxi after initial consultation or you may set appointment with the doctor in either location.
After taking some pictures and talking with some of the reception staffs around the main lobby I went to see Dr.Vijaen. He is known to utilize all the knowledge from latest breakthroughs in cancer research, that makes him one of the top specialists in cancer treatments in Malaysia. I was baffled, in a positive way, how we were immediately on the same wavelength on some hot topics like the refugee crisis in Europe and suppression of integrative modalities by same globalist crooks that work in concert with BigPharma and open border lobby in EU and NGO's that are currently destroying Western Europe. He opened up on the issue and was deeply concerned of the recent development in our continent. It was heartwarming, and at the same time alerting, to realize how I have to fly to other side of the world to find highly educated influential people with common sense that too many spoiled westerners or at least our upper echelons of the political spectrum seem to lack.
Dr.Vijaen has the most impressive credentials of all the doctors I have met on my travels having being studied in UK for three years in the early 90's on top of his medical doctors degree from University of Malaya in 1986. Later in 2003 he also worked one year at the St. Bartholomew Hospital (St. Barts), one of Europe's most advanced cancer centres in London and undertook advanced training in Minimal Invasive Surgery in gynaecological cancers at Kurashiki Medical Centre in Japan under the Supervision of world renowned MIS expert Professor Masaaki Andou. Additionally he has worked for Malaysian Health ministry for more than 27 years and has also been an avid educator and teacher having trained medical students, specialists in O& G and sub-specialists in Gynae-oncology. On top of all that he is passionate about nutritional and metabolic therapy for the management of cancer and also a strong advocate of integrative and holistic approach to cancer care. As it comes clear he is specialist on cancers related to Gynae-oncology, but the integrative methods can be applied on other type of cancers as well.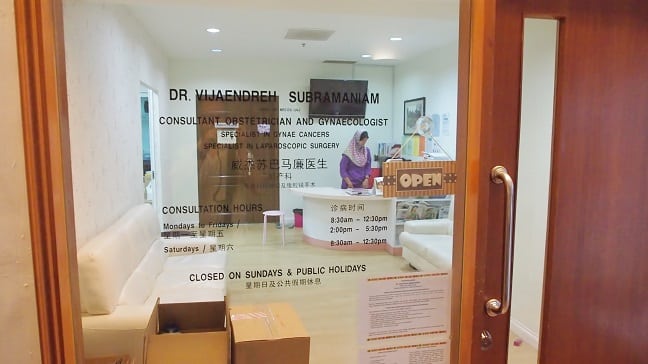 Soon after initial introduction and chit-chat we headed to his car to take a ride to The Healing Frontier. We continued interesting conversation around the topics of medical politics, latest breakthroughs in cancer research and his experiences on several seminars around Europe, his students years in UK and his observations of changes in Europe that has been happening over the decades. Seems like most people who ever come across with integrative therapies and the root causes for them to be suppressed are very aware of other political and economic topics as well. Maybe it's not a surprise that they are intertwined, but especially the statements of former prime minister Dr. Mahathir Mohamad makes it apparent that in Malaysia people used to be aware of such things until the recent corruption that has taken Malaysia again closer to Singapore in it's medical politics as I wrote on Malaysia's introduction.
Facilities at The Healing Frontier all inclusive premises – EBOO Ozone Therapy, EDTA Chelation, UVBI etc.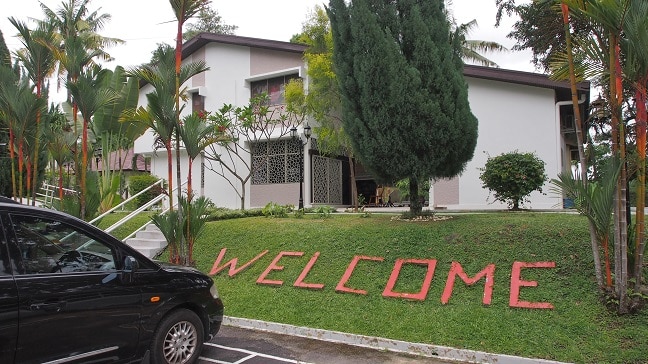 Once we arrived at the location we made a tour around the premises and facilities available. There are many rooms of different size and style available for renting, swimming pool, little garden to grow fresh vegetables and gym and treatment rooms for EBOO ozone therapy and EDTA chelation. Even GHL Azura/Champion 4000UVBI machine, which is probably the best one, was there and special toilets for doing coffee enemas. And not to forget, the portable sauna for helping detox by sweating. I found out Dr. Tom Lowe from USA has done good instructional videos demonstrating the use of Champion 4000 UVBI machine, even combining it to ozone autohemotherapy and according to testimonials from patients and practitioners the results have been excellent. You may expect something similar at Cancer Care Centre.
And of course there's the kitchen and cook who prepares the meals for those who stay longer in all-inclusive manner. I had a lunch there with Dr.Vijaen and it was the most delicious one I ate during my time in Melaka. In general organic food scene is not so developed in the Melaka China Town tourist area as it is for instance in Ubud, Bali or Chiang Mai, Thailand which are other wellness and integrative healing hubs in Asia with lot's of health conscious expats. But two inspiring and closest to the artsy, organic hipster style places that I came across were Calanthe Art Cafe and The Daily Fix Cafe.
While we ate Dr.Vijaen got a phone call from his colleague and they spoke about cancer remission of some of his patient. It gave me first hand evidence and confidence that their protocols are working. Here is quote from one other testimonial of "Ms.F" who had persistent high grade Cervical-intraepithelial neoplasia:
"… She came to our clinic on the June 2012. After careful consideration of all the possible options she decided to take 'a route less travelled' and underwent metabolic and nutritional therapy with no surgery.

On regular follow up at 3 monthly intervals (liquid based cytology and biopsy as indicated) we saw a gradual normalization of the cervical cytology. By December 2012 she had fully recovered; including an amazing restoration of much of the cervical anatomy, and deemed disease free."
Unfortunately my visit being a short one I did not take any test treatments myself. Their prices are under table too, so to say. I later understood why he wants to keep as low key as possible because the Malaysian government later(in May 2017) banned ozone therapy completely and he was trying to avoid drawing too much attention. The prices also vary depending on the protocol packages that are individually planned. But a single EBOO might be available at around 120 USD if they still do it silently despite the ban. You need to make personal inquiry to find out the current pricing and packages.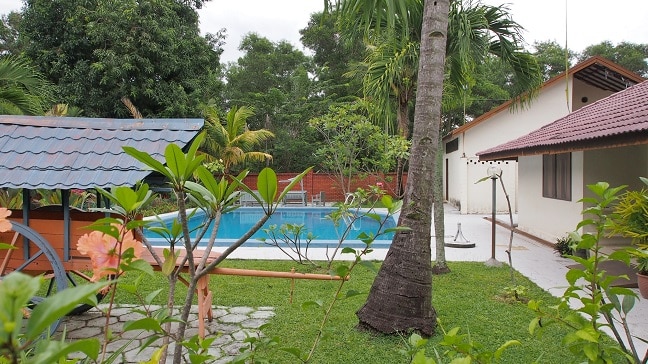 Dr.Vijaen is also a friend of Dr. Mahendran Ponnuthurai who used to work at OZ Wellness Centre, which has now at least temporarily ceased operations due to the country wide ban in ozone therapy. However, he told me that he now collaborates at the Cancer Care Centre with Dr. Vijaen and do ozone therapy more or less silently.
There is now a joint appeal made by many Malaysian doctors directed to the health ministry to lift the ban. But the outcome will remain unclear for the foreseeable future.
Summary of the basics in a well made guidebook
On our way back Dr.Vijaen gave me a hard copy of guidebook he made for his patients going through integrative and holistic cancer treatment. It compiles the most essential instructions for self-help starting from root causes and mechanisms of cancer cell growth, survival, and metastasis, agricultural practices, life-style, oxygen, detox, chelation and other integrative modalities and mindfulness. I found it excellent package for getting a tightly packaged set of information about the most crucial factors involved when dealing with such chronic condition. Especially interesting part for medical travellers to SE-Asia was the local food chapter. It gives practical examples and pictures of foods that are available especially in Malaysian kitchen. Unfortunately that was additional appendix not found on the clinics website like the general food and diet instructions. But like I quoted earlier there is one page online dedicated for encouraging patient testimonials. So you are well covered and in good hands if you are looking for cancer treatments in Malaysia.
Melaka can be easily reached by one and half to two hours bus ride directly from KL airport. When returning back to the airport, it might be necessary to buy ticket online beforehand for the early morning buses. Transnational coach can get surprisingly fully booked. In my case it was the last ticked available which I bought late in the previous evening. If you are ready to book flights, check out Skyscanner.
---
Cancer Care Centre
Mahkota Medical Centre
Suite 203A, 2nd Floor, No.3, Mahkota Melaka,
Jalan Merdeka, 75000 Melaka, Malaysia
Email: [email protected]
Tel : +606-2852956 (Clinic Line)  Fax : +606-2881822
H/P : +6010-2218321 (Emergency Line)